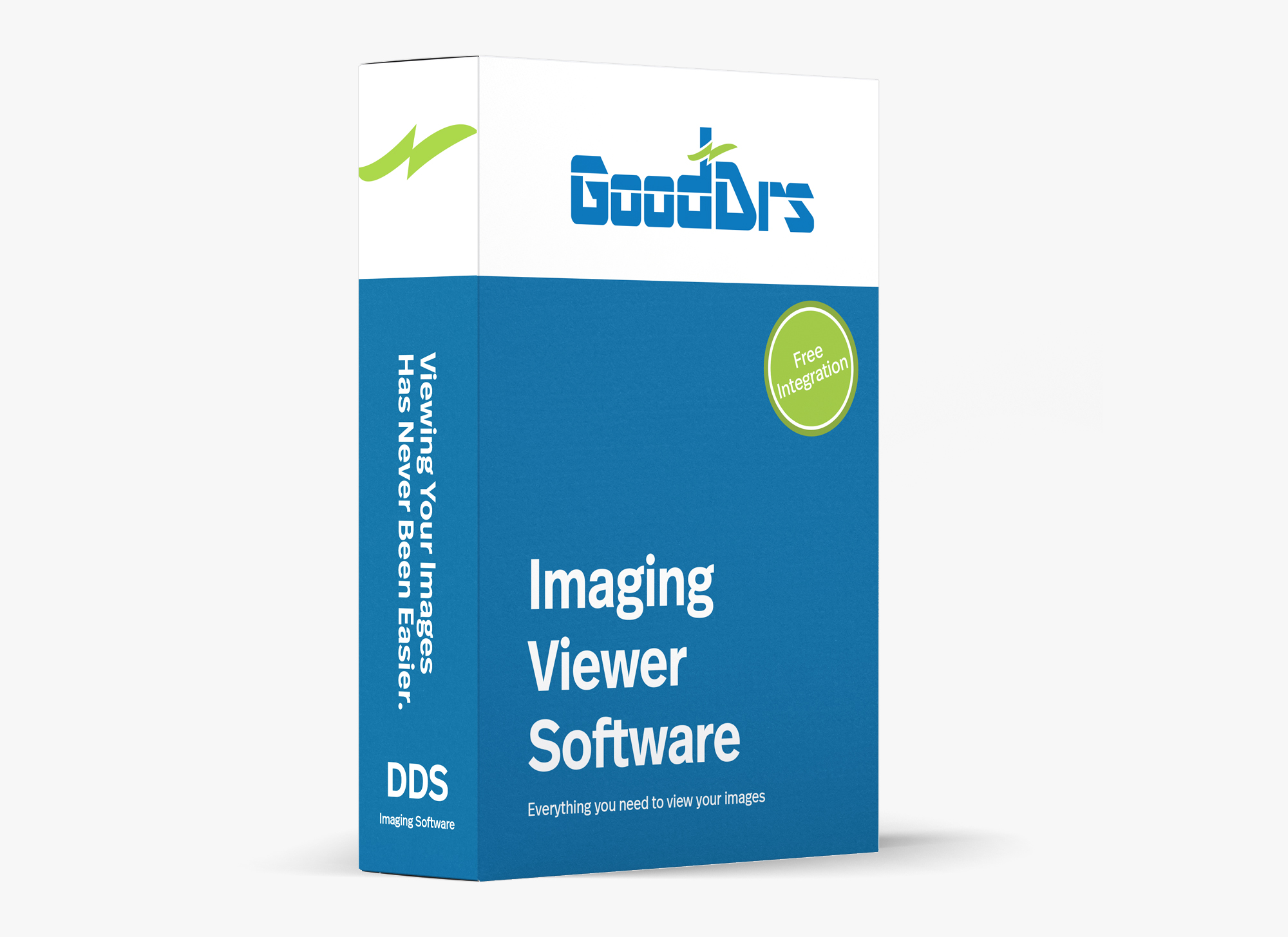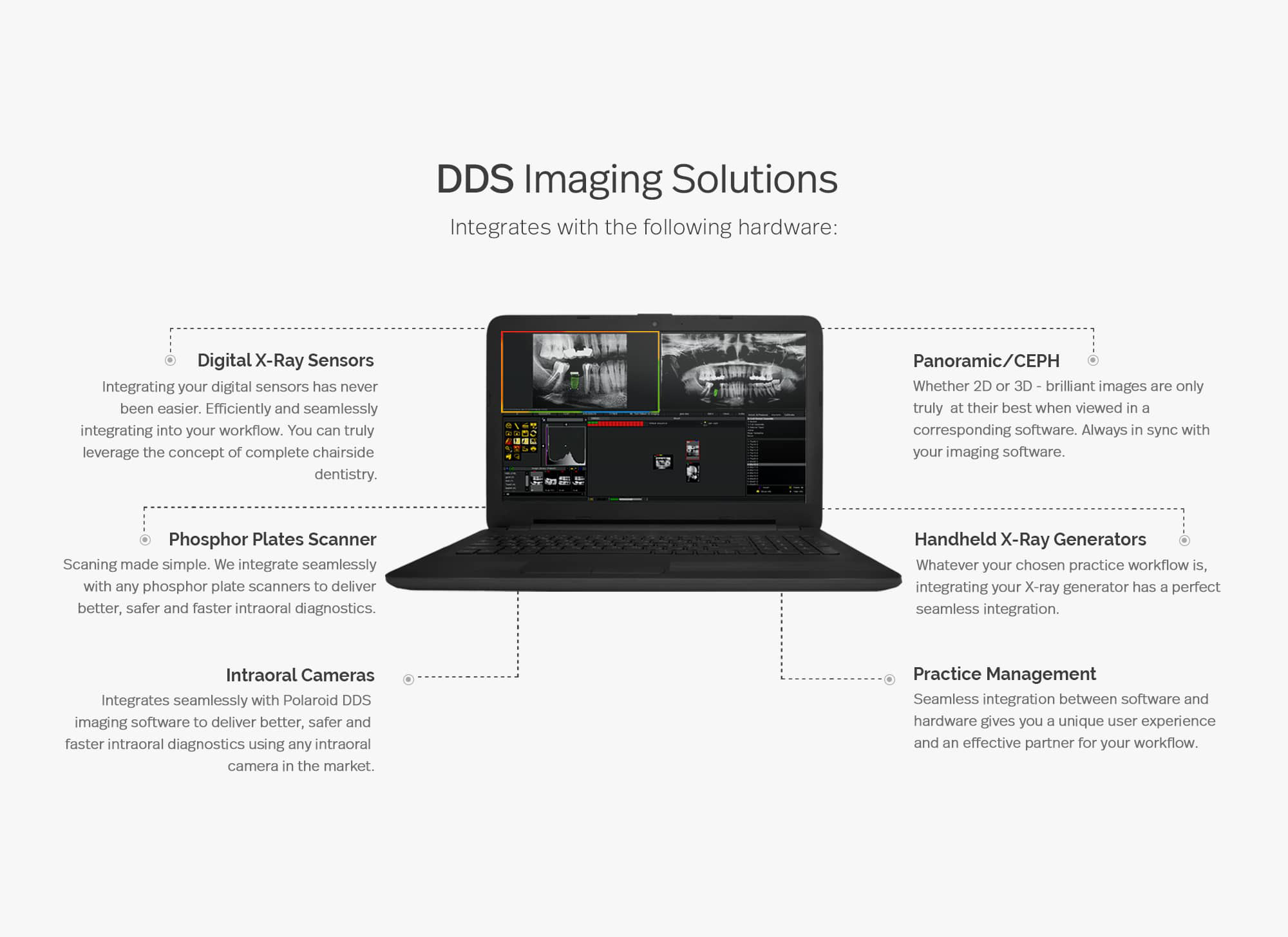 150,000+ users worldwide

||

Conversion available from most imaging softwares

||

Easy to use interface and design
DDS – Premium
Imaging
Software
Works with most digital dental hardware
Universal Platform – one software is all you need!
Data conversion available.
Total flexibility and freedom to use any hardware or operate multiple dental offices with a single imaging platform.
One software is all you need! It's open architecture design integrates with most intraoral cameras, x-ray sensors, phosphor plate scanners, panoramic x-rays, digital cameras and more!
Extraordinary X-ray Image Quality
DDS uses powerful tools commonly found in medical imaging to bring optimal results with any digital equipment. DDS keeps all the raw data from the x-ray sensor and uses a powerful 16-bit viewer and the unique Windowing tool permits the user to interpret different grayscale representations "Windows" of this data. Eliminate the parts of the image that don't contribute to diagnostics. This allows DDS to offer extraordinary image quality with a variety of brands of sensors and phosphor plate systems.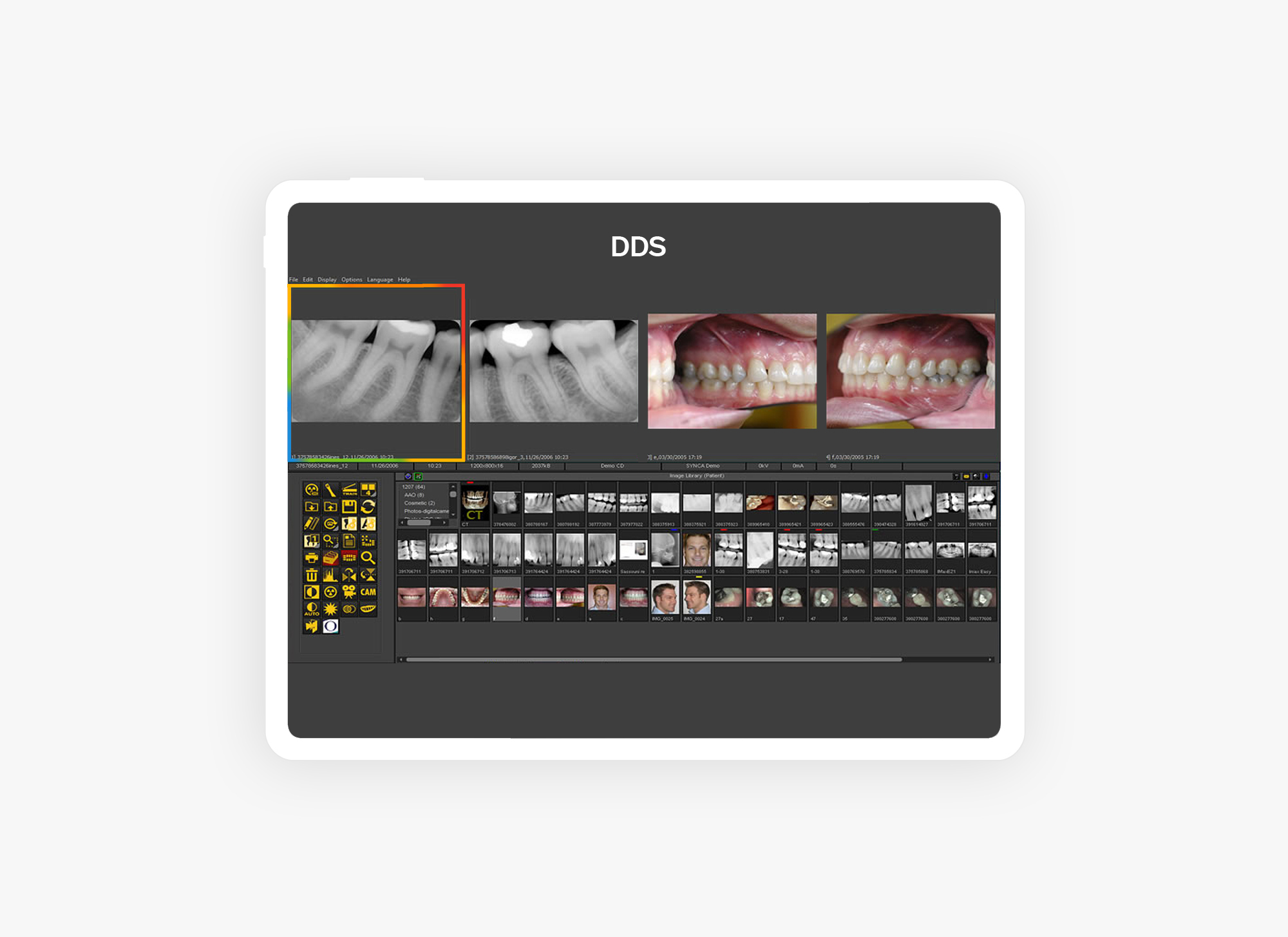 One Solution
Open architecture works with most known 2D imaging devices.
One Software
To learn and use no matter what brand devices you have.
One Place
Manage all your images in one place, no matter what the brand.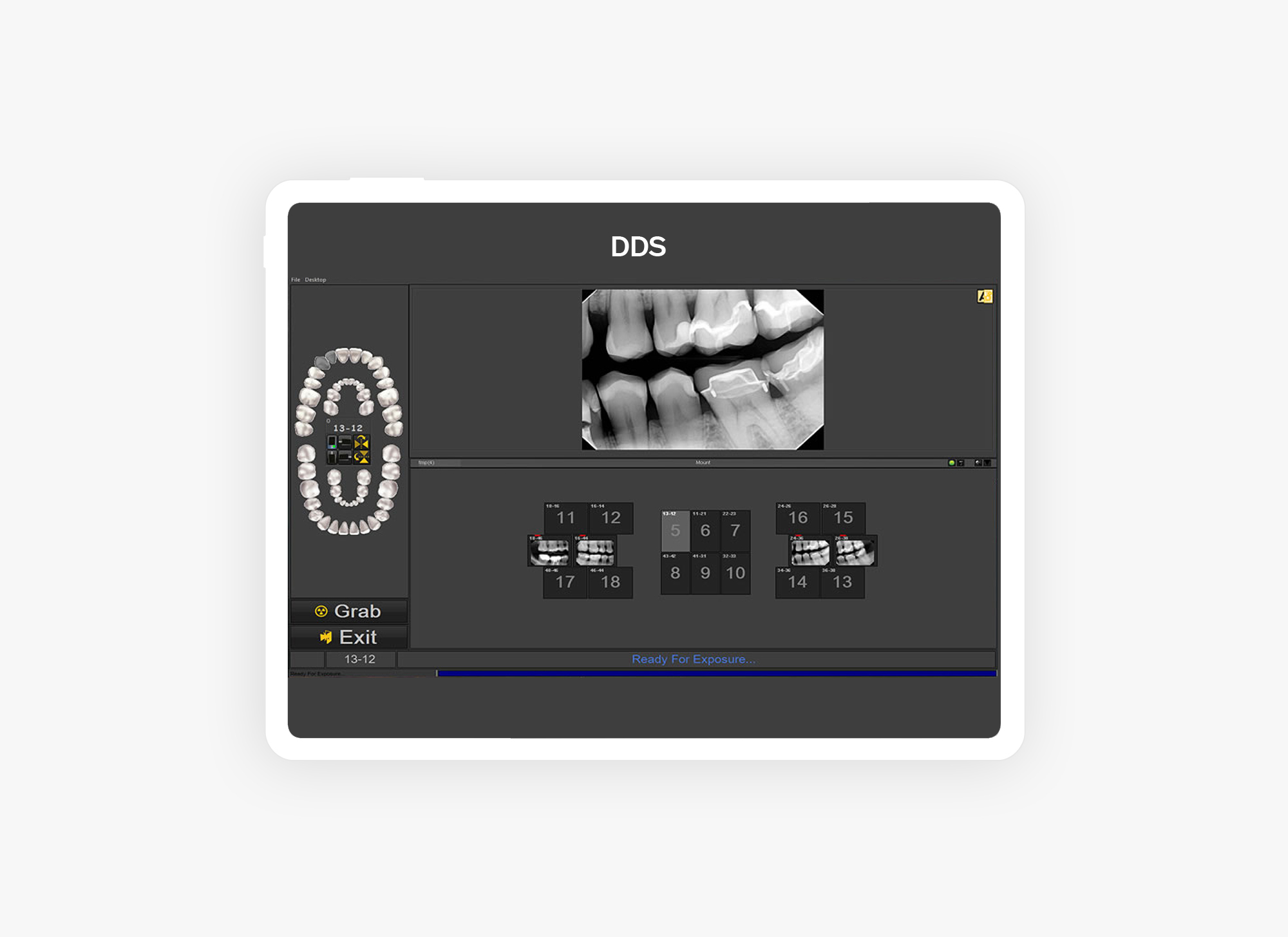 X-rays - Recare, Emergency new patients, Endo, etc.
With a direct sensor system, x-ray acquisitions are fast and precise. X-rays are automatically placed into mounts and oriented as they are acquired. With phosphor plate systems, DDS helps organize images by tooth number and orientation.
Regardless of your system, DDS features powerful automated filters that optimize image quality. It's easy to view complete x-ray exams, tooth history, or to display multiple x-rays simultaneously with other types of images.
Report Writer
Send professional looking referral reports and insurance submissions.
Case Presentation
Easy to create and present professional looking case treatment plans.
Patient Education
Easy to use patient education module. Create your own, or import pre-made professional content.
Implant Module
The Implant module contains a library with 25 different brands of implants. Transpose the desired implant over your image to help determine width and depth for optimal treatment plans.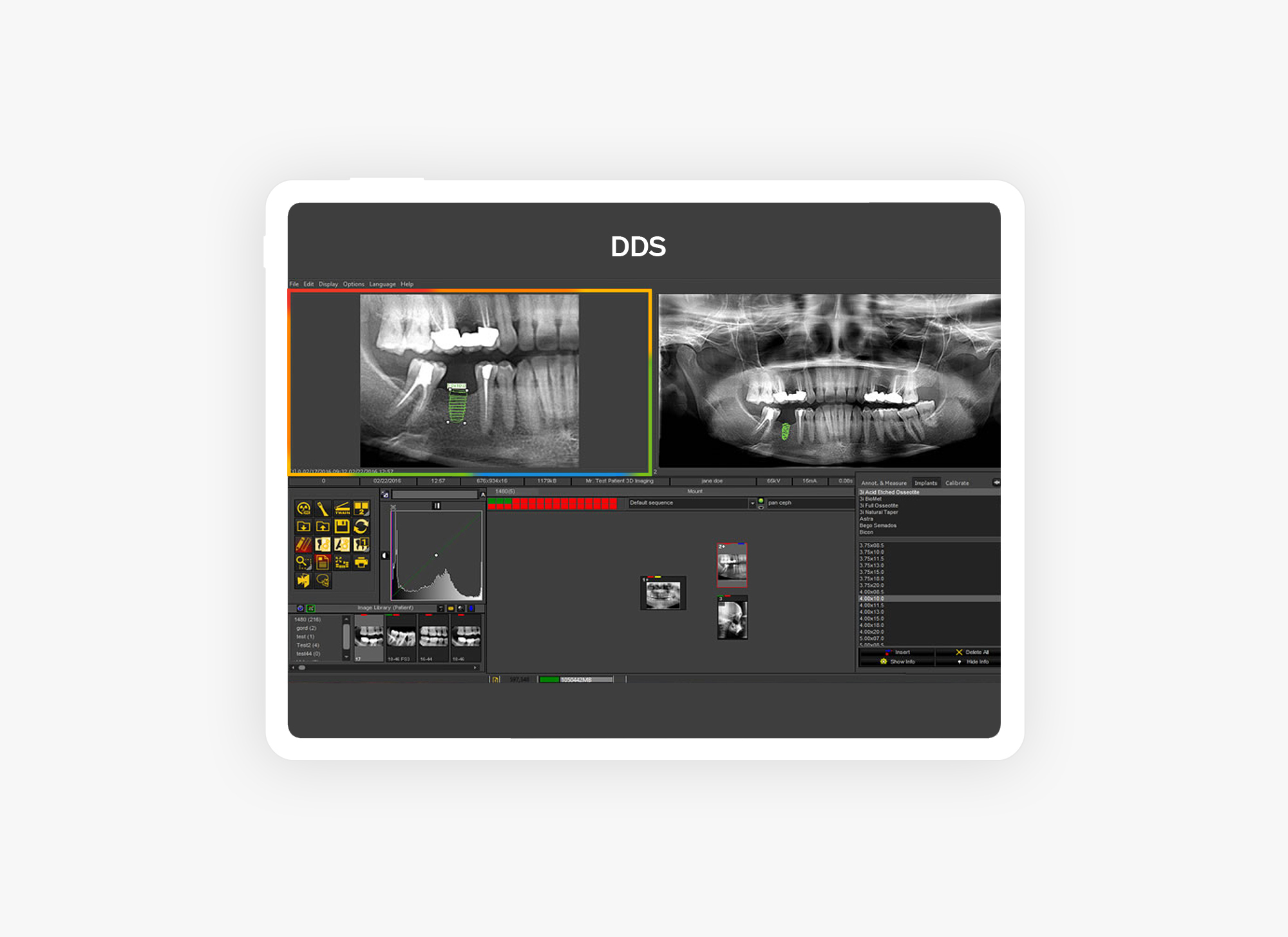 Automation
Fast and easy to acquire, position, optimize, review, make notes, and store your images.
Native Integration
Direct integration with most imaging products allows for OEM enhancements to be used, besides our own.
Simulator
Whitening and Cosmetic Imaging simulator included with our Pro software can take your cosmetic procedures to the next level.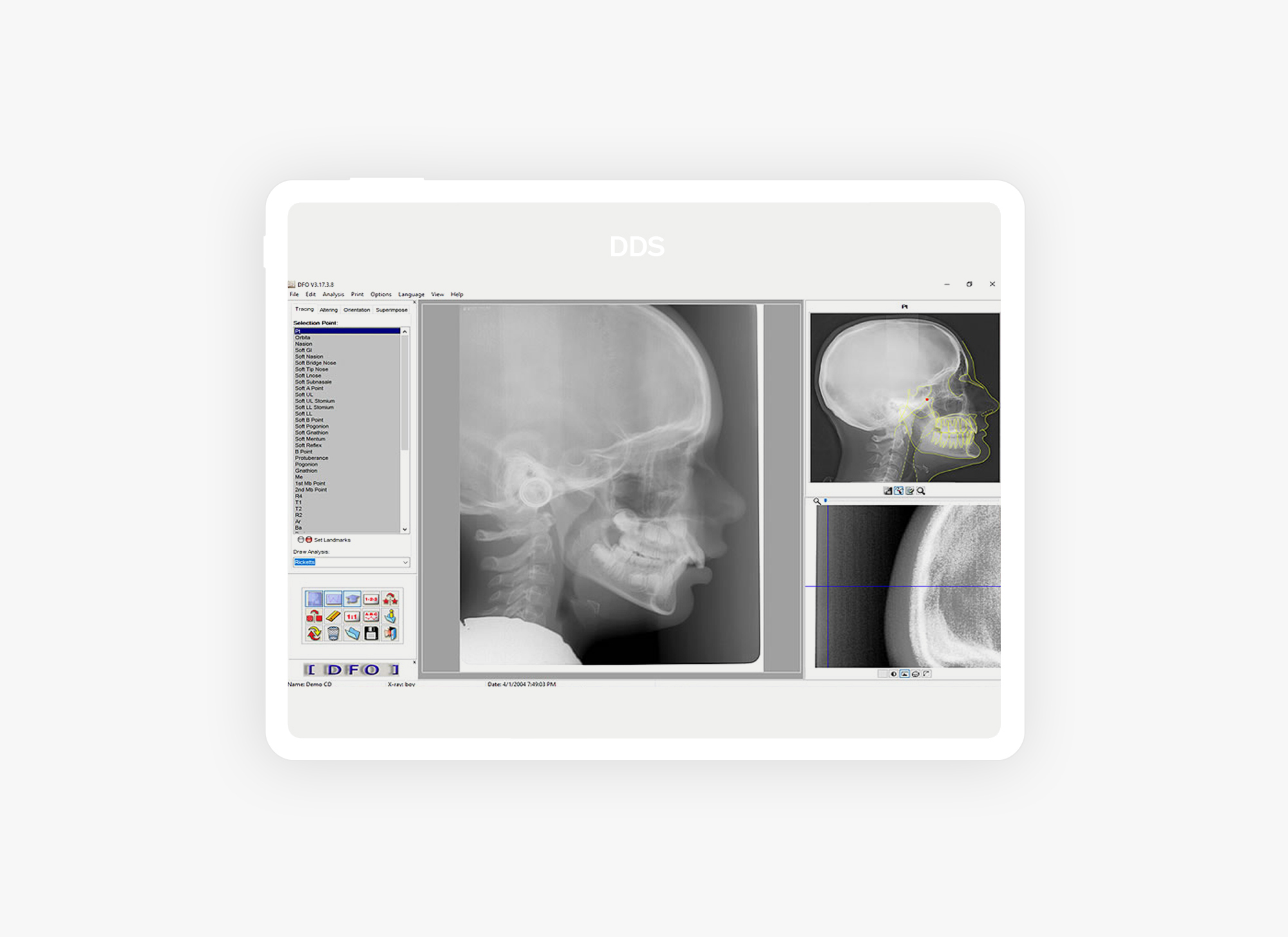 Optional DFO – Dento Facial Orthopedics
Take your Cephalometric image in DDS and launch DFO. Set all the points needed to complete your analysis and it will be automatically calculated and drawn on screen. No need to spend a large amount of time on drawing and calculating. Use the built-in popular analyses, or use the analysis editor to create your own. Combine measurements from different analyses in a couple of clicks.
Click below to
shop our collection!
||
check out our newest tech!
||
discover what we have to offer!
© 2020 All Rights Reserved!