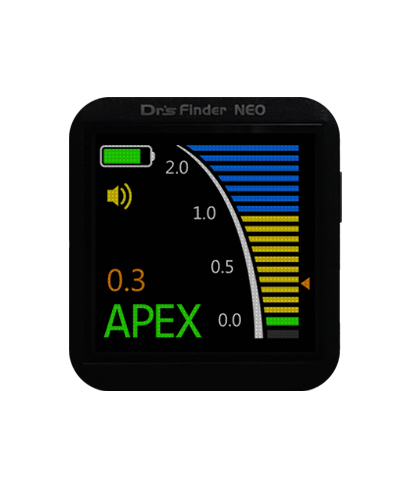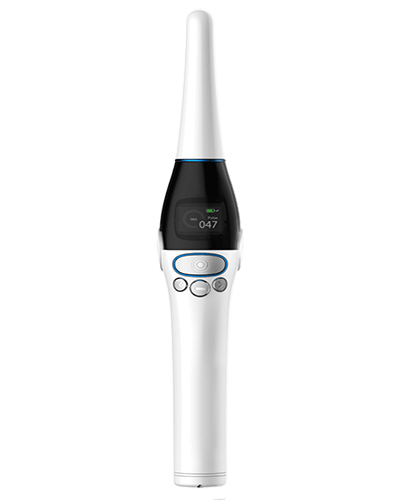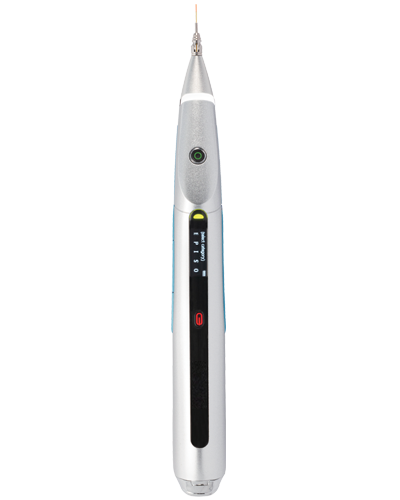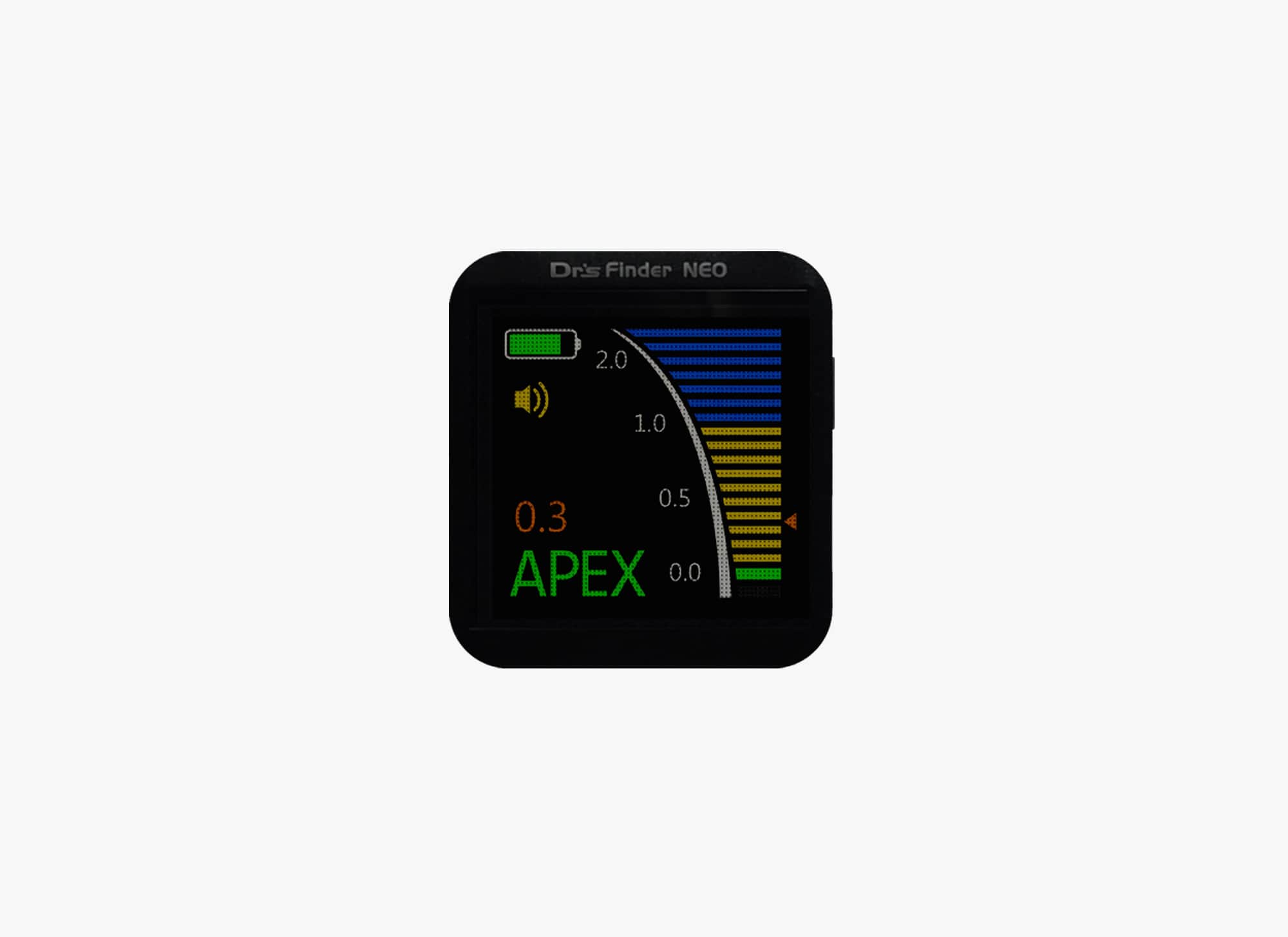 Accurate Technology With The Best Solution For Endodontic Treatment.
World's Smallest Apex Locator.
Powerful features and a slick design to provide a class leading 97.5% accuracy using 3 frequencies.

The award winning NEO is the world's Smallest Apex Locator. Dreamed up by a dentist who was tired of having to lift his head to see the Apex locator. The size of a Smart Watch, NEO is small enough to clip onto a finger ruler- pure genius!
Small and Compact
With its compact size and spring clip on the back, the NEO has the option to be clipped onto the included tray stand, or finger ruler. You can also clip it onto the patients bib, your sleeve, a watchband, whatever.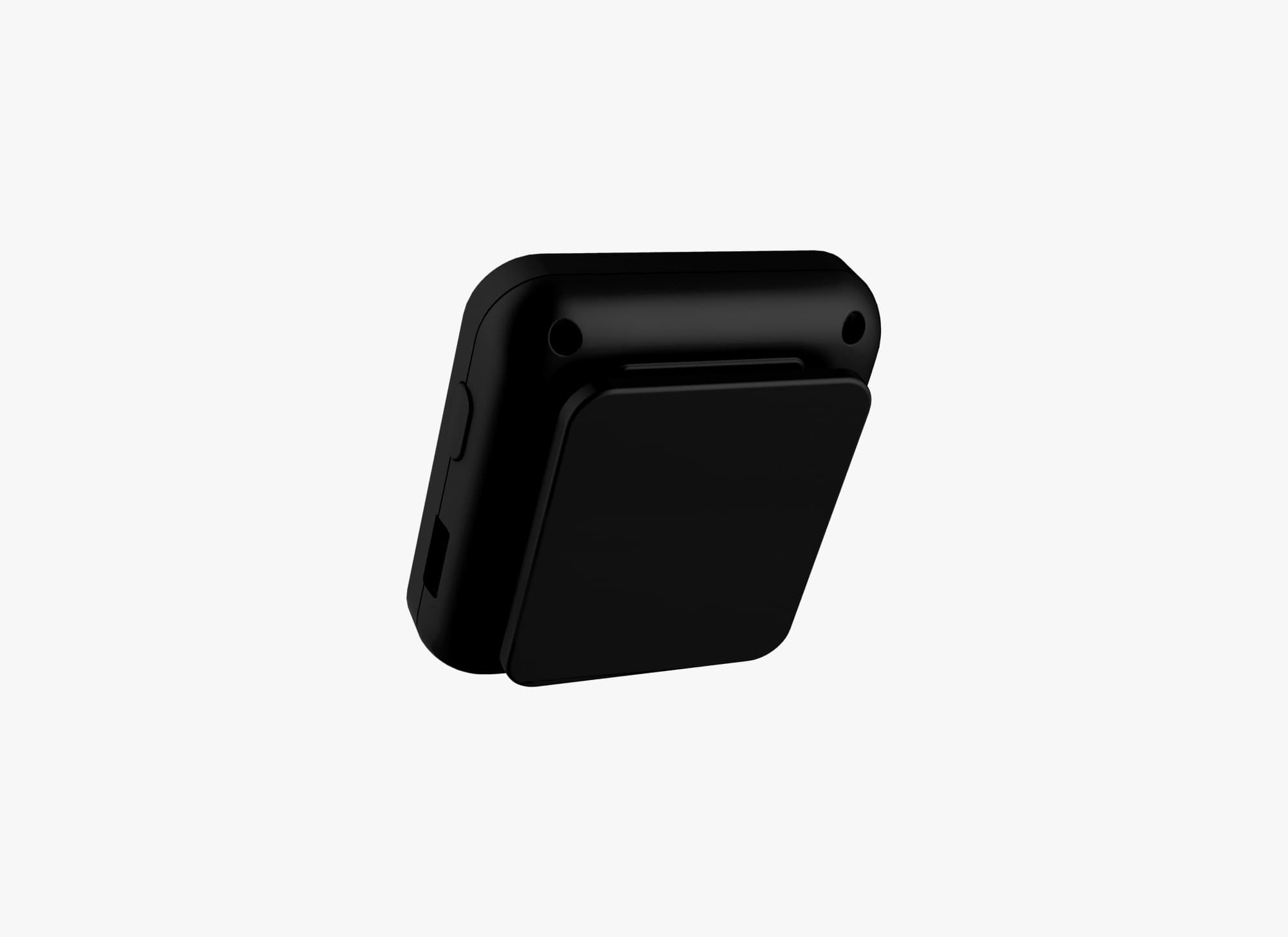 Various Attatchments
The NEO comes with one tray stand, two finger rulers, 3 lip hooks, and two file hooks. All are autoclavable. Plus a cord extention, USB charging cable, and a clibration Jig.
Touch OLED Screen
The brightly lit, clear display screen offers three popular display styles of graphs for you to choose from.
Calibration Made Simple
Calibrate the device by yourself with our calibration jig. Calibration ensures accuracy, never just trust your device to Automatic calibration, be sure with routine manual testing that you can see for yourself.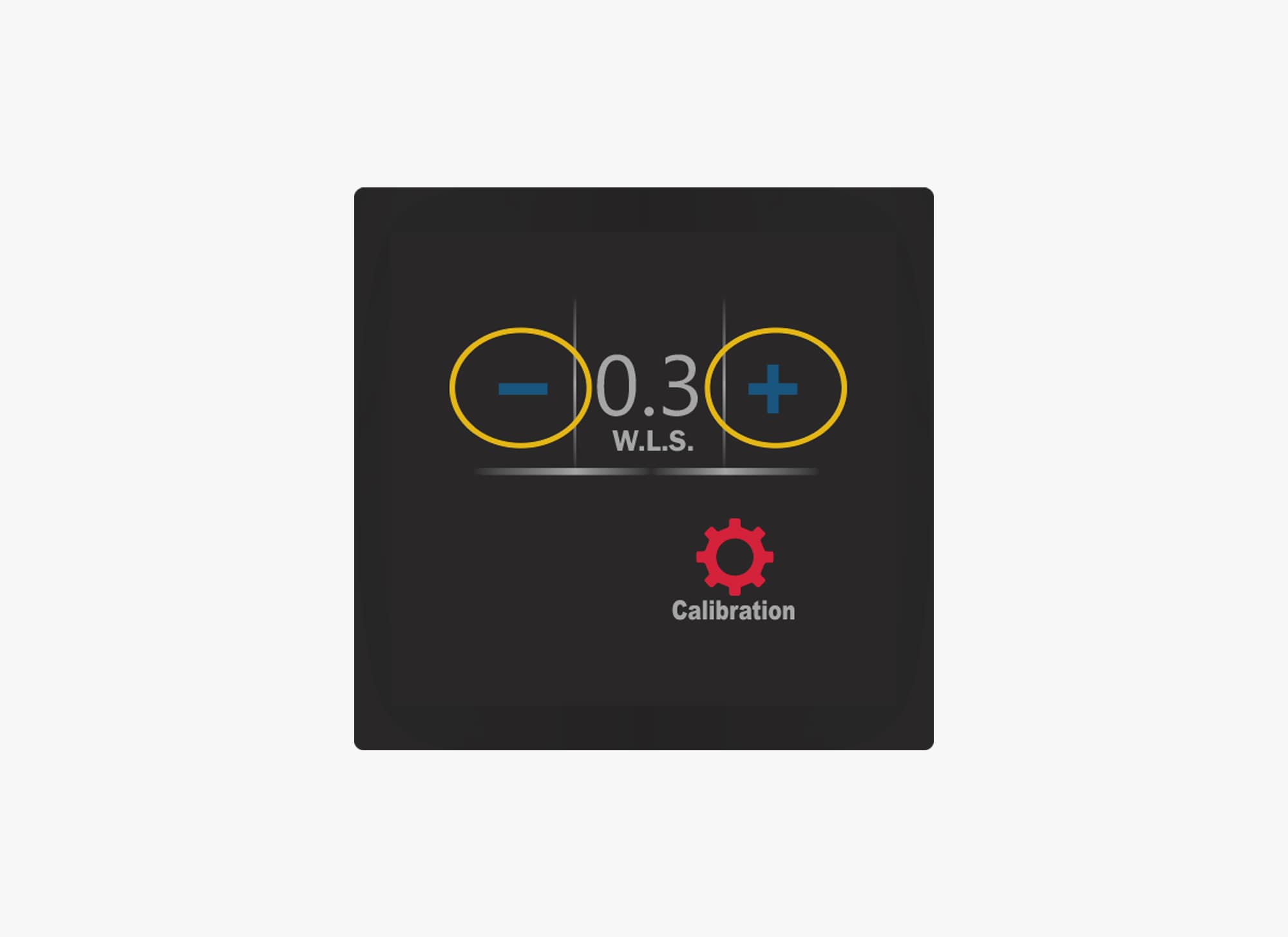 Touch Screen Convenience
The NEO features an easy to use touchscreen to select all your settings with a gloved finger. Simply swipe your finger up, or down, or from side to side to make your needed depth adjustments, turn the audible alarm on, or off, and set the available timer if needed.
Accurate Measurement
Using 3 frequencies for better results and the latest signal IC for an unbeatable 97.5% accuracy, providing the best possible measuring quality.
Auto Off
Device automatically turns off after 5 minutes if not in use. Conserve's power in the long run. The lithium Ion battery quickly charges using the provided USB charging cable.
Free In-Office 14 Day Trial
Contact us, or your local full service dealer for a free 14 day in-office trial, or select the green "Request Demo" button in the upper right corner to begin.
Ergonomic
Never have to bounce your head up and down checking your Apex locator again. The Neck Saving, Ergonomic NEO is designed to to clip onto just about anything. The idea is to always have it in your field of view.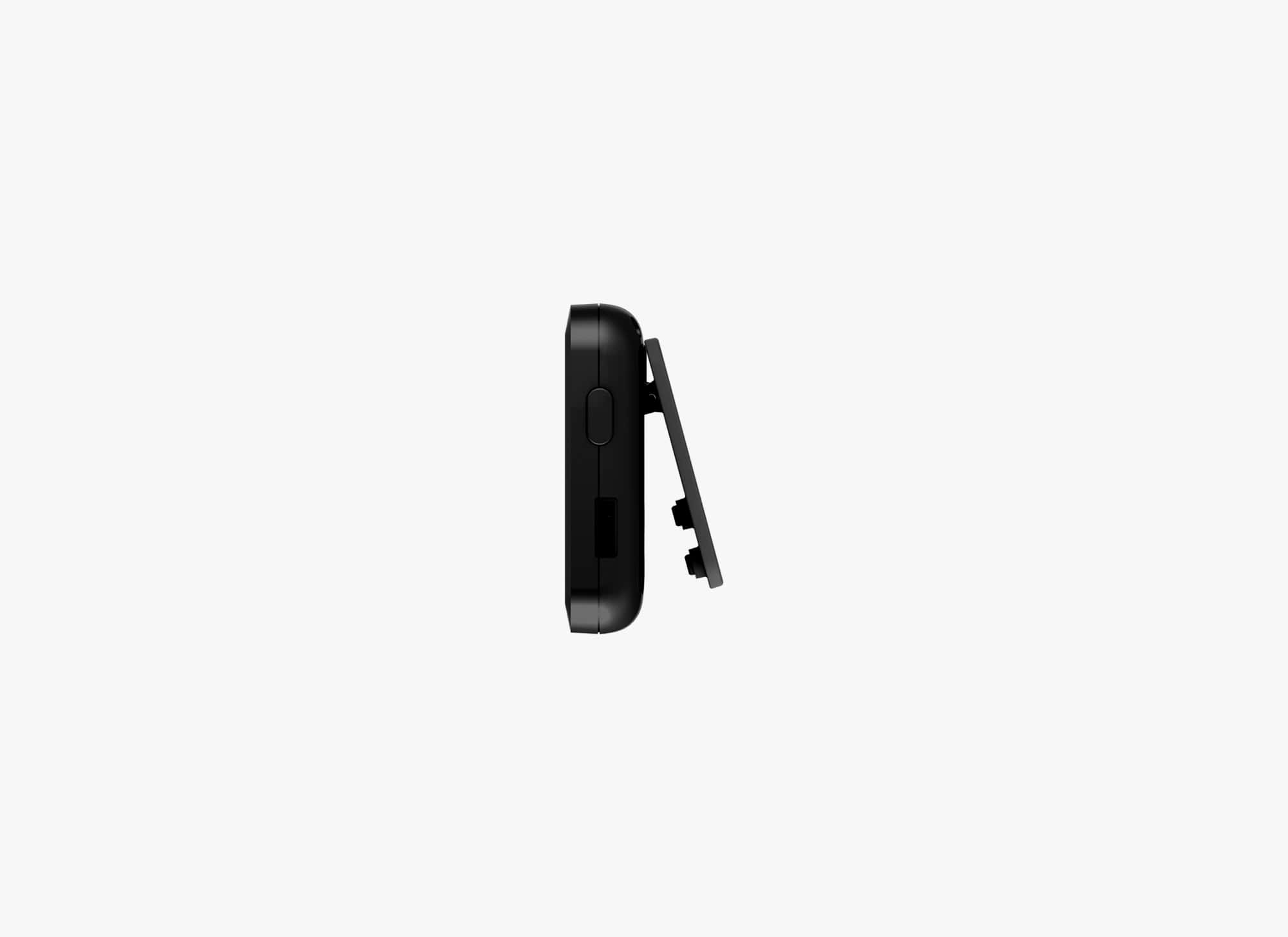 Technical Specifications
Technical
Specifications
The NEO Wireless Apex Locator:
Apex Locator, 2 File Hook's, 3 Lip Hook's, Probe Cord,
Extension Cord, Calibration Jig, 2 Finger Ruler's, Stand,
User Manual, and Charging Cable.
Apex Locator:

Operation Voltage: 3.7V Lithium-Polymer

Measurement: Approx. 43 x 46 x 16 mm (24g)

File Hook:

Length: Approx. 200 mm (included hook tip)

Lip Hook:

Length: Approx. 65 mm

Diameter: Approx. 2.15 mm

Extension Cord:

Length: Approx. 60 cm

Probe Cord:

Length: Approx. 70 cm

Stand:

Measurement: Approx. 43 x 67 x 62 mm (52g)

Warranty = 1-Yr Manufacturer's Defect Warranty

Remote Support = Free Lifetime Support
Looking for more accesories?
Click below to
shop our collection!
||
check out our newest tech!
||
discover what we have to offer!
© 2020 All Rights Reserved!